STE-55 Hot Melt Pump


Dual hose-capable gunning system is ideal for medium to large manufacturers. Independent digital thermal control systems for the follower plate, pump, and hoses ensure that the material is uniformly heated and dispensed. Excellent for sealing gas-filled I.G. units, and for connection to automated I.G. systems.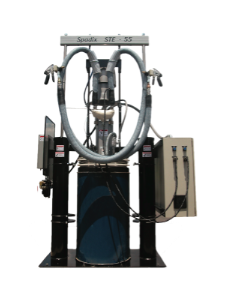 5/8'' x 12' heated hose with dispense gun and choice of nozzle.
Digital PID control system.
Dual hose capability.
6.5'' rams ensure consistent material contact.
Maximum melt rate: 7 lbs per minute.
Highly visible LED temperature read-outs.
Approximate dimensions: 64'' x 32'' x 72'' (162cm x 81cm x 183cm).
Shipping weight: 950 lbs.
Standard model: 240V 80A (480V model available).
Capacity: 55-gallon drum.